Beach Café, Busan, South Korea
Known as the Miami of South Korea, Busan is famous for its beaches and mountains. When the design team at Seoul-based Matter Better Interior Design Studio (mttb) approached their assignment for a beach café in the town of Gijang-eup in the Busan Metropolitan City region for a local brand Off.O, they knew the scenery had to be the main attraction.
The structure housing the 589 square-metre (6,340 sq.ft) café on the weather-beaten, rugged beach is elegant in its low minimalist profile.
The café extends into three separate buildings. The central entrance space houses a bakery and a coffee bar. Angled on both sides are two separate seating areas, each with incredible views of the beach.
Minimalist black, white and natural slate hues dominate all three areas with the bakery mostly slate-grey and one of the seating areas almost completely black with long tables and low-hanging lighting. The overall elongated, low-slung design language draws the eye to the windows and to the rugged scenery outside.
The boxy shape of the structures and the rigid shapes of the windows and long tables are softened by rounded details, such as the hanging light fixtures, chair backs and the edges of the lower tables made of bulky, dark slabs of wood.
With the dark minimalist interiors and the indoor pathways flanked by rock-filled "wells" there is a definite Japanese sensibility to the seating areas. We love the drama created by letting the spectacular views dominate the rooms.
Matter Better (mttb) was in charge of branding, concept design, schematic design, working drawings and design supervision of this project.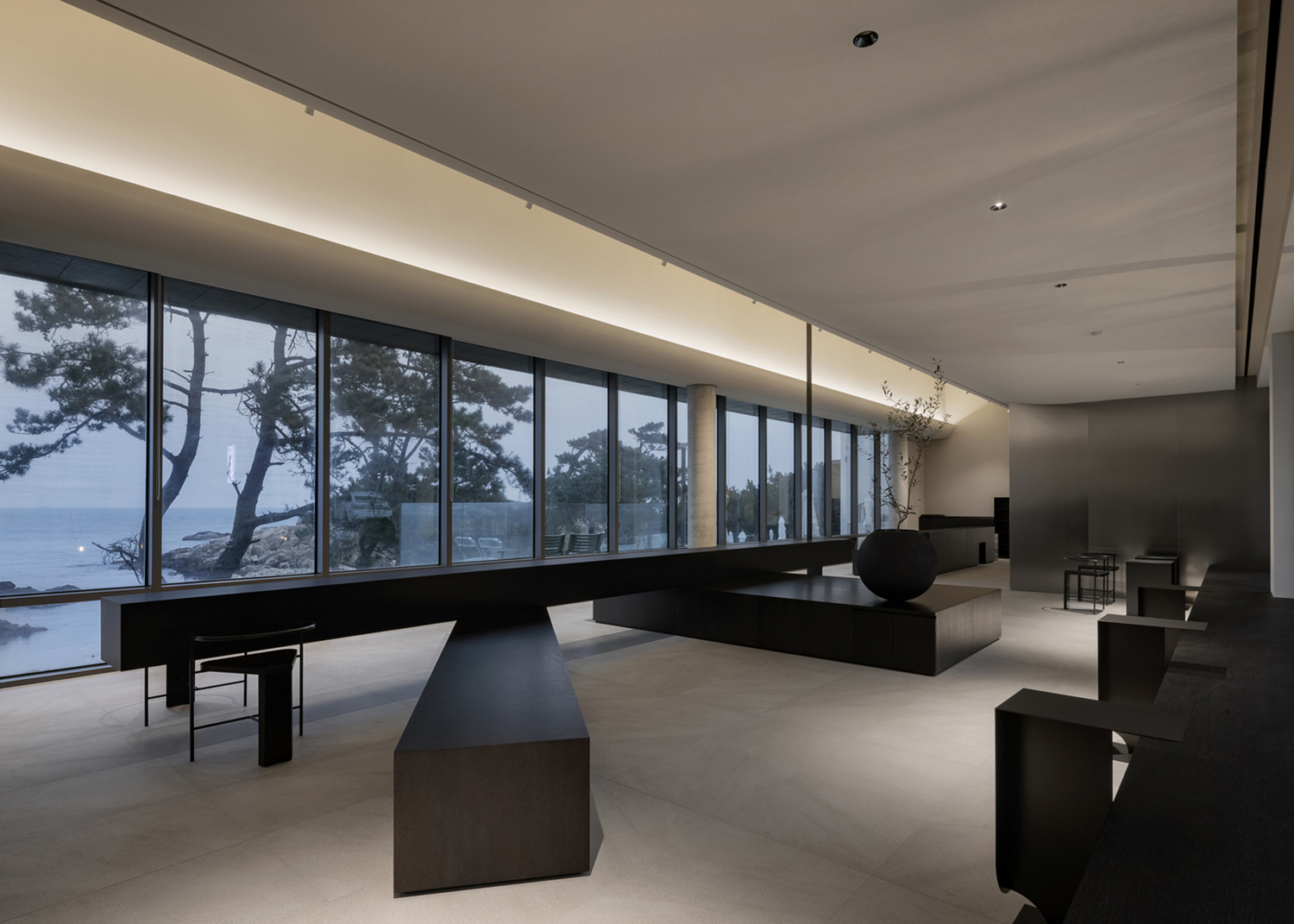 Images: Yongjoon Choi