Best 10 Examples To Make Your Window Wells Look Awesome
If you have a basement, you are sure to know the importance of window wells. Along the way, our Experts have fulfilled the needs of many different customers, including home- or big property owners. We have assembled some inspiring before and after photos from our clients and their finished egress installations. Browse below our best ten examples to make your window well look awesome:
1.New grate cover in a sleek black powder coating. The window well top is in a custom shape in size 38×16 inches surrounded by stylish patio stones.
2. Well-fitted cover can be all you need. Above all, the basement covers are necessary for their functionality. To avoid filling their window well with debris, these homeowners choose a beautiful super slant cover made from crystal-clear glass-like polycarbonate with an aluminum frame size 66×47 inches. 
3. The renovation of the well below is remarkable. Simple white paint and a nice super slant cover (106×50) with mesh aluminum sides have brought this old timber basement well to life.
4. Stone and black metal is a classic in home design. Our engineers have chosen a grate cover with back matte powder coating for the top of this beautiful stone well. Because of the large size of the grate (74×52 inches), it is made from light, durable material. Let's not forget that according to the local requirements, all basement wells should be functioning fire escapes. That requires all covers to be light enough to be removed in case of emergency or have a hatch for the same reason. 
5. New window well in size 50×36 inches and a little landscaping
6. Wonders in a circle. The gravel pebbles are an eternal, stylish addition to any landscape. They also have good drainage characteristics. However, it is not a great idea to leave a well open right next to the building or the basement window. So to cover their small semicircular vent well, our clients have installed a sloped cover in size 42×16 inches that is practically invisible. The sloped design will protect the opening from water and debris.
7. The optimal egress solutions include a basement window, window well, and a fire escape ladder. The cover for the well is optional, but it's easy to spot on this beautiful white window well with the dirt and gathered debris at the bottom. A cover is a simple solution to preserve the egress window well in the long run. Having it made from a highly-durable polycarbonate, its long life is guaranteed.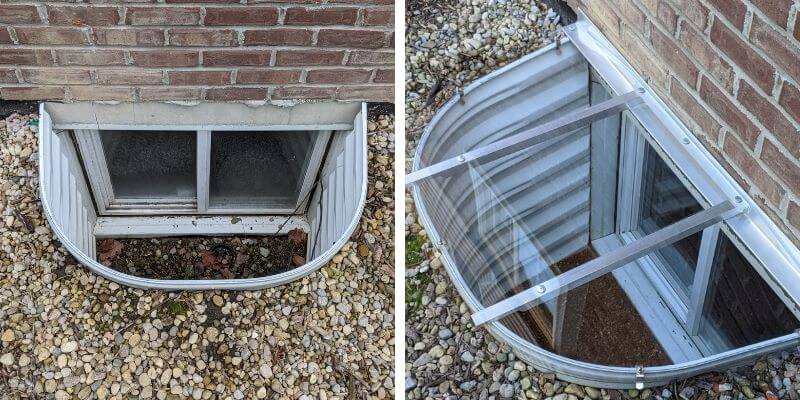 8. Another example of a concrete window well with an "unbreakable" polycarbonate cover in size 42×20 inches surrounded by thriving plants.  
9. Black grate and a white well became a favorite combo of our customers. The clear white well is an easy design solution that reflects the natural light enough to transfer it into the basement. The grate (67×40 inches) allows airflow easily. The black matte seamless color contributes to the settled look of the egress opening. 
10. Finding the best solution is our engineers' primary mission. In this case, they have created a perfect sloped cover in size 68×38 inches that needed a new frame to fit over the rounded corners of the well below. The final results look like the perfect fit.
DO YOU FEEL INSPIRED ALREADY? OUR EXPERTS WILL BE HAPPY TO DISCUSS WITH YOU ANY PROJECT THAT YOU HAVE IN MIND. GET IN TOUCH AT 1-888-650-9355 OR ASK FOR A FREE QUOTE HERE.