Make a DIY Makeup Vanity On a Budget
Do you want a dreamy makeup vanity for all your beauty products? Having a designated spot to get ready will speed up your preparation while also providing a decorative feature to your bedroom. And the best thing is that you don't need to spend lots of money to build one. In this post, we feature some simple and affordable vanity ideas. Some of them can be made using inexpensive Ikea finds, so check them all out!
Dresser vanity
The top of your dresser is an ideal place to create a makeup vanity. Make sure to include a mirror with a decorative frame to anchor the vanity. Add makeup storage and enhance with decor that matches your vibe.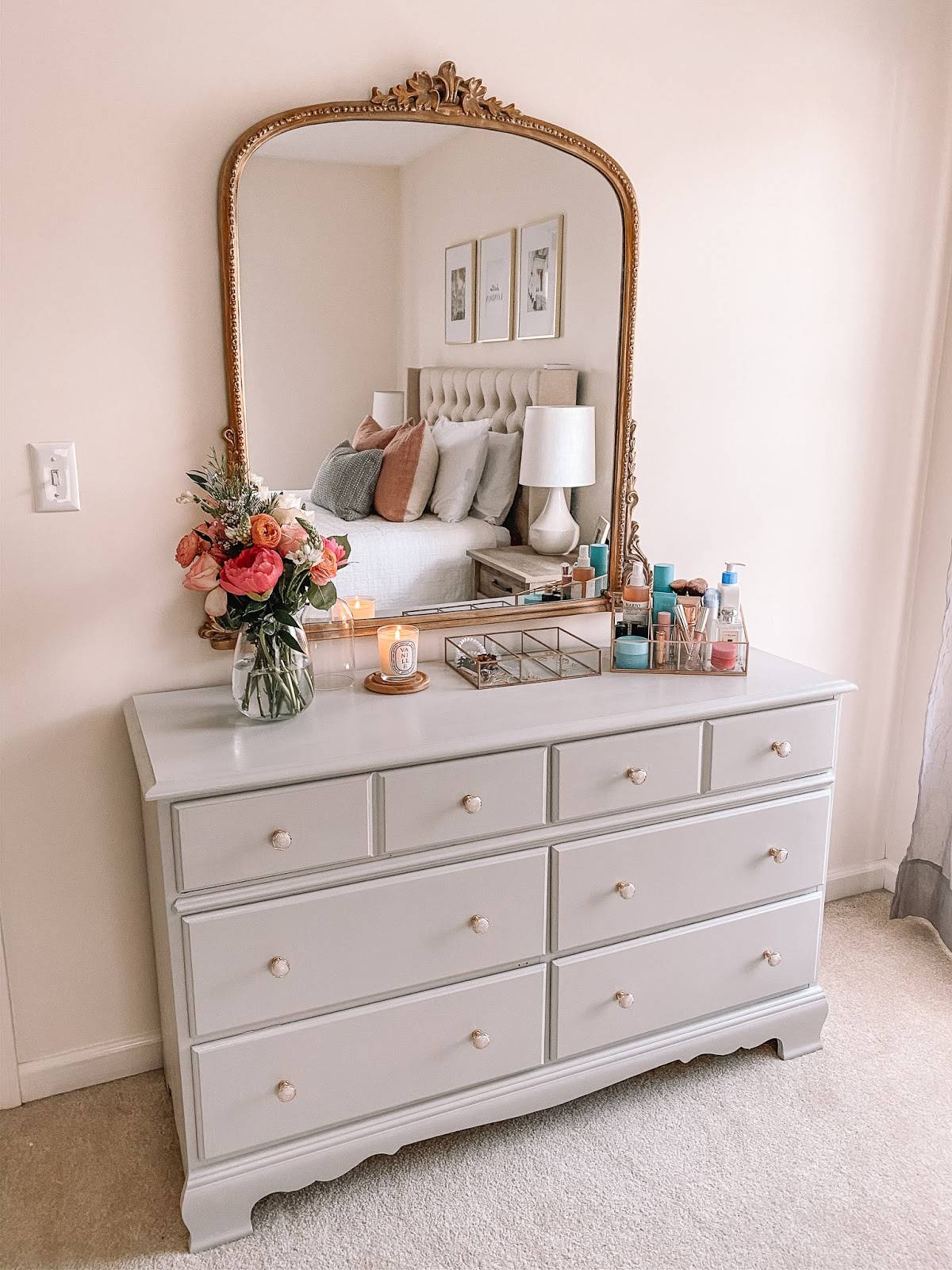 Rustic makeup vanity
A makeup vanity with wooden details adds charm to your bedroom. We love how they kept this design simple, adding legs to the inexpensive Ikea drawers. The round mirror and cozy throw add a soothing visual touch to this setting.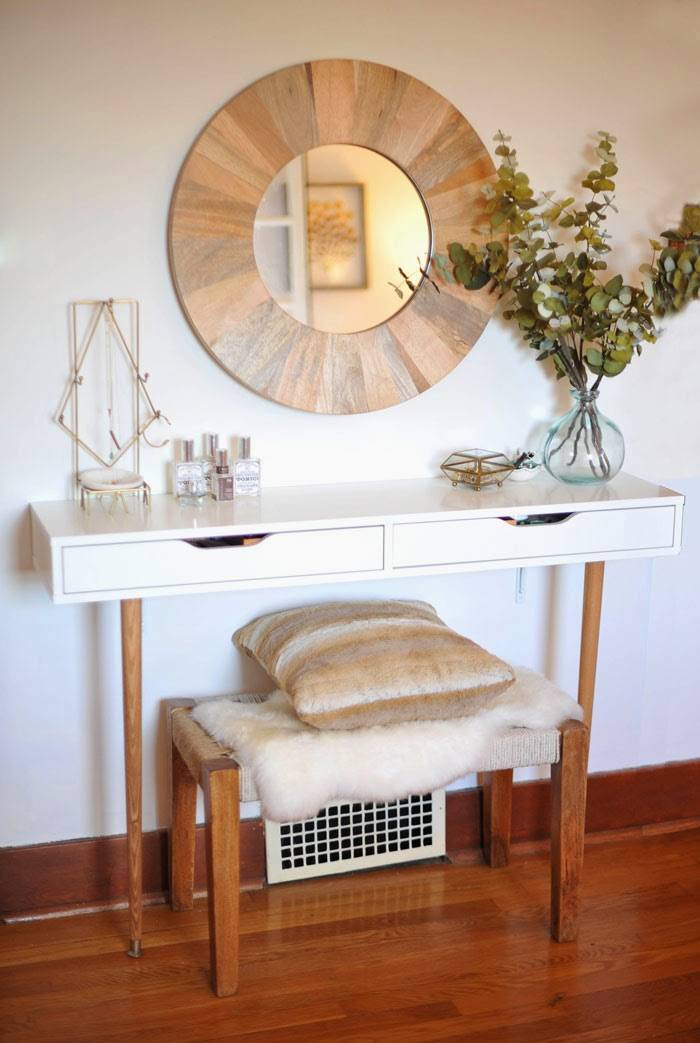 Vanity for a small bedroom
The Ikea desk with drawers is famous for being repurposed into other items. In this case, they used it as a vanity instead of a nightstand to save space. The sleek jewel-tone chair adds a touch of elegance to this beauty corner.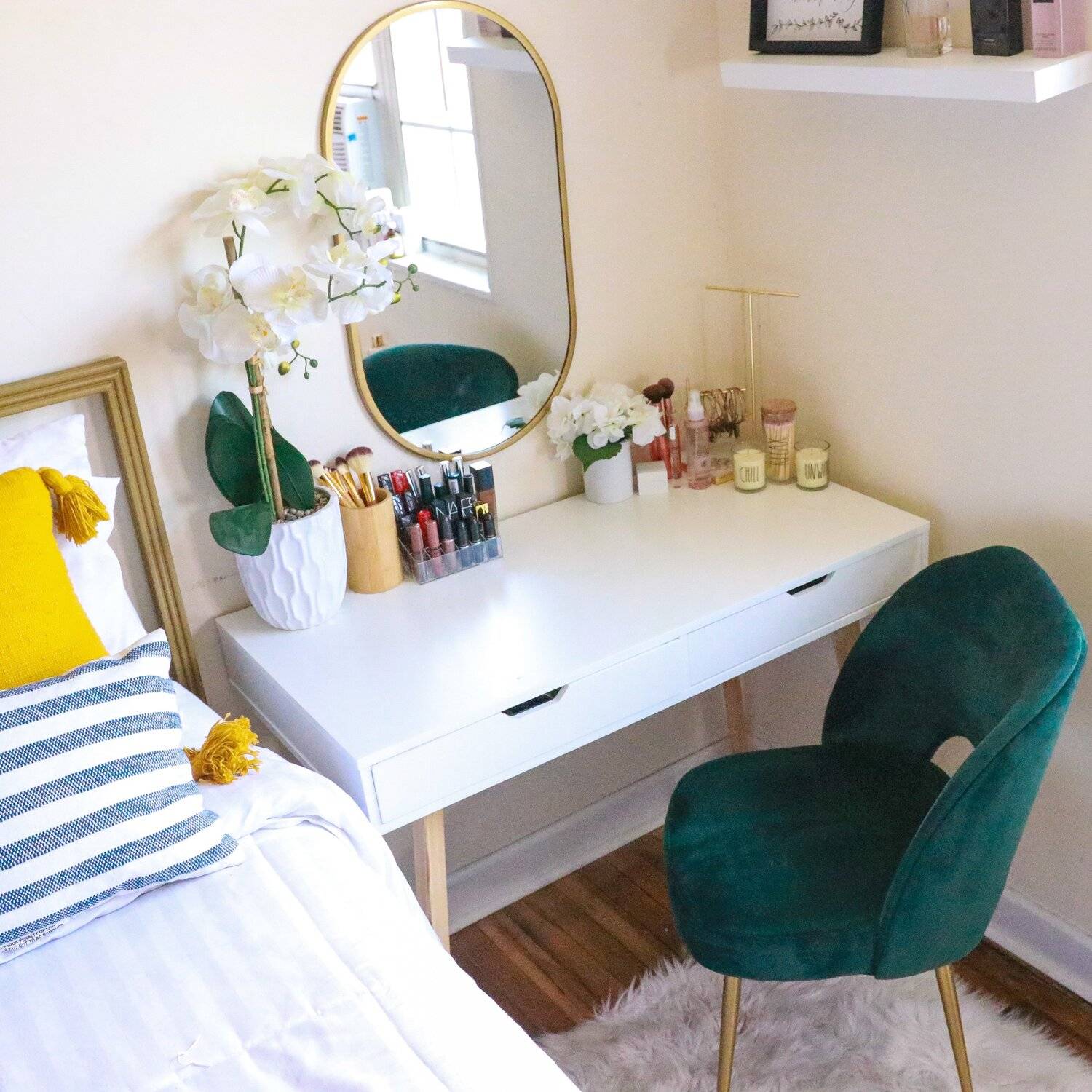 Elegant beauty vanity
A sleek vanity with a tufted blush ottoman is an attractive feature for your bedroom. We love how they used a stylish bar cart to provide storage to keep cosmetic products neatly organized.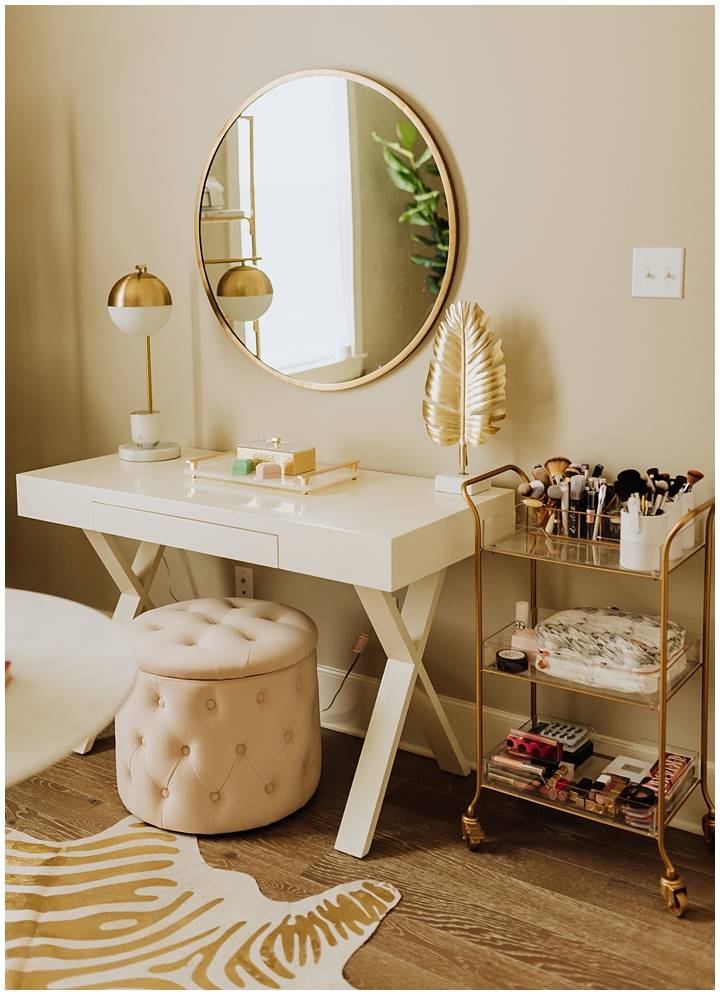 Work desk and makeup vanity in one
If you work from home and need a dedicated desk, you might not have space to fit a vanity. In such cases, go for a two-in-one approach. A leaning mirror adds a decorative touch while making it easy to apply makeup. The shelving unit allows you to hide the makeup when you want to get productive and get to work.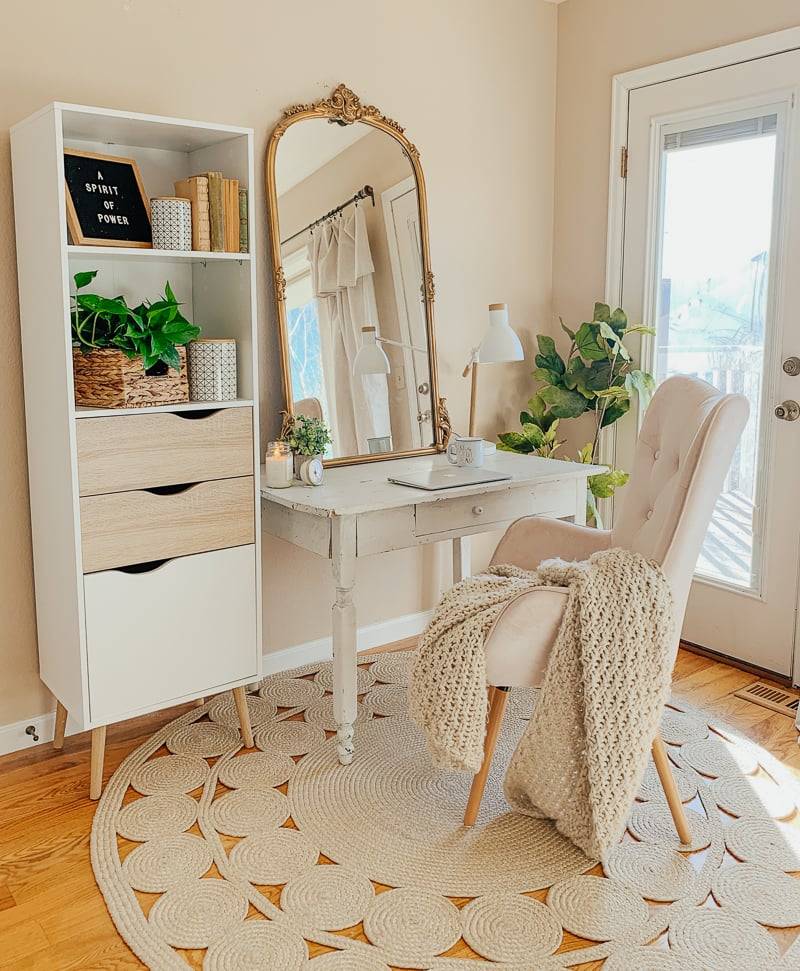 Industrial style
This simple vanity carries the industrial style to an austere bedroom. The wooden shelf provides storage for makeup, and the round mirror anchors the setting. The industrial-style chair completes the arrangement, which is compact enough to fit in the tiniest of bedrooms.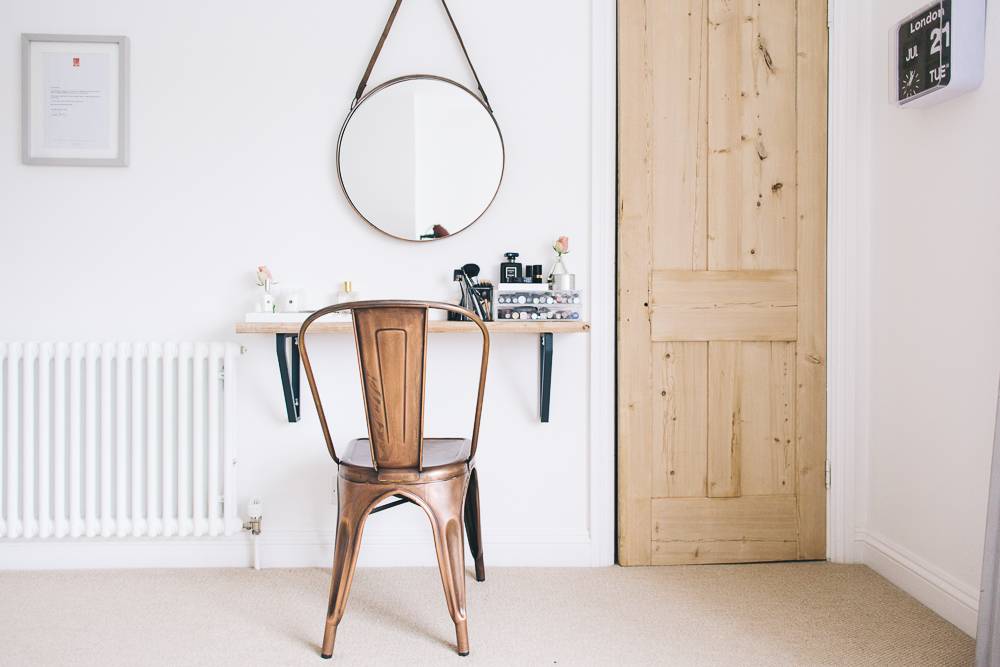 Vintage meets modern
If you want to create a charming makeup vanity that adds personality to your space, go to your nearest thrift store. A vintage chair and mirror will perfectly complement a sleek shelf, while a woven basket is ideal for storing a hair dryer and curling iron, creating a functional corner for getting ready.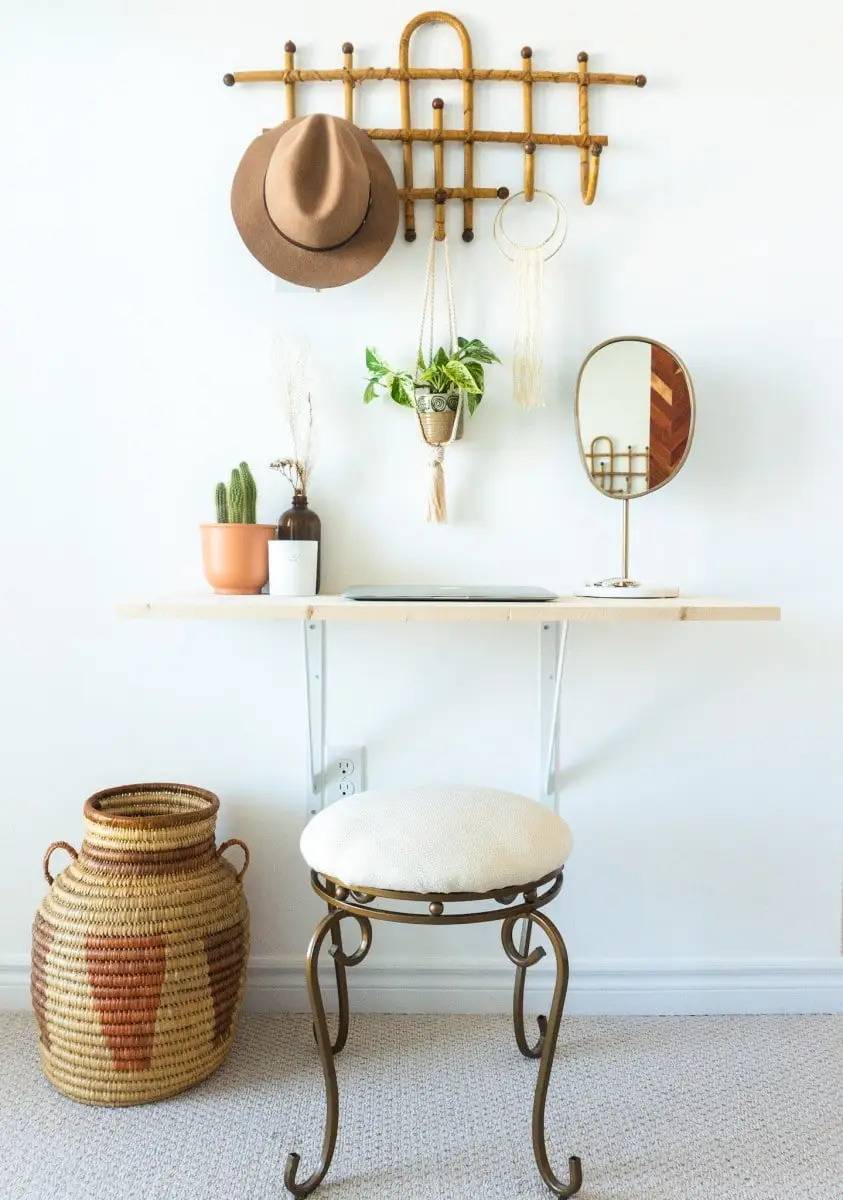 Sleek vanity
 A sleek white shelf, a minimalist mirror, and an acrylic chair are all you need to curate a modern makeup corner. The small acrylic drawers are ideal for keeping your makeup neat and organized.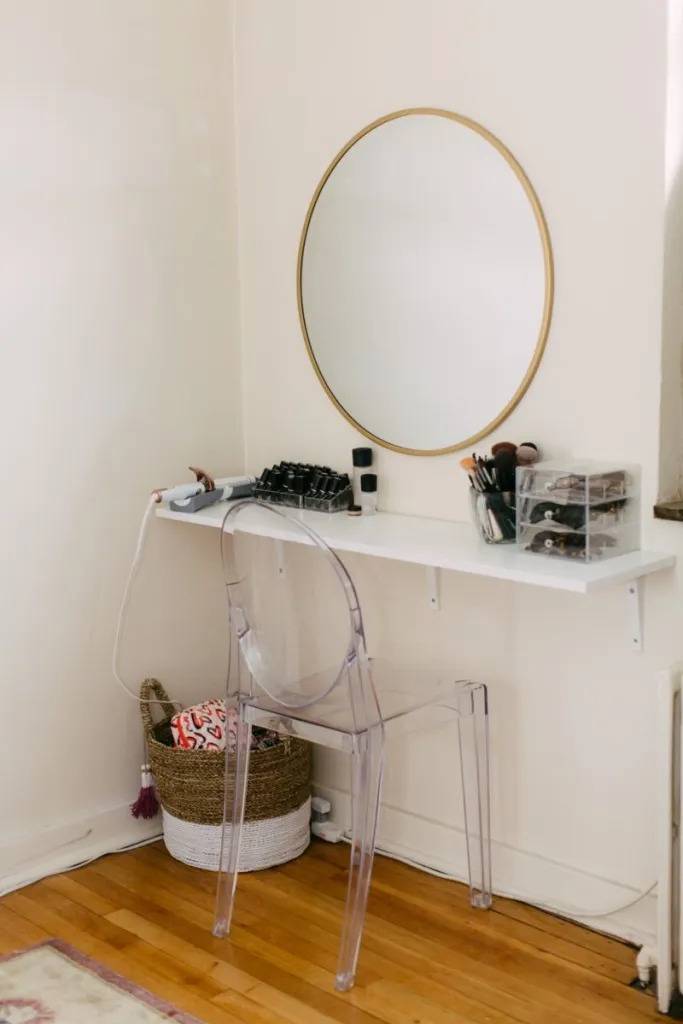 Desk-to-vanity
We love how they turned an inexpensive Ikea desk into a modern, chic makeup vanity. The blush chair enhances the setting and is complemented by a wall frame in the same color.
Edgy vanity
The simple yet edgy design features a floating shelf with built-in storage and golden details that add a luxurious feel.