Cooling Misters by Koolfog Keeps Things Chill
Ice cream is a summertime treat that is right up there with iconic American traditions like hot dogs, baseball, and 4th of July celebrations. Creameries offer all sorts of enticements such as topping selections, soft serve, dipped, and of course, there is always a plethora of savory and sweet blends that melt in your mouth. While all ice cream shops are not the same, they do share something in common. A family-friendly field trip to any ice cream store is time sensitive…and Koolfog cooling misters can truly save the day.
Timing is critical
When you make the decision to grab an ice cream cone, you know going in that you're not able to take it home or save it for later. In most cases, the sun temps will be so hot that you're not even going to make it to the car. A fresh ice cream cone requires immediate attention. Upon transfer from the scooper's hand to yours, it's already melting down the sides. You only have seconds to lick the drips, traversing the cone so as not to miss even one drop. Or heaven forbid, it melts so fast in the heat that it's a slushy before you know it.
Cool your jets…it's time for an ice cream run!!
Many establishments provide indoor seating in highly air-conditioned atmospheres to enjoy a good sundae. But somehow, the little parlor tables take away from the outdoor field trip experience. After all, you are going to cool off with a tasty treat, not hang out in a freezer. This is where Koolfog cooling misters come into play. Ice cream shops are now joining restaurants and cafés in installing patio cooling misters to satisfy customers who want a summertime sweet while enjoying the best of summer and the chance to share an al fresco dessert!! Offering guests a comfortable outdoor spot to nosh, evaporative cooling misters can keep customers coming back for more.
Case in point…Handel's Homemade Ice Cream Since 1945
Handel's has been creating summer ice cream memories for over 75 years. They are invested in the communities they serve offering frosty cones, dishes, pops, shakes, "hurricanes," and more. While their "fun-filled flavors" and fresh, seasonal ingredients are off the charts, their dedication to making guests feel good is even better. Recently, Handel's opened a location in Palm Desert, California…one hot desert store. People braved the sizzling temperatures and lined up on opening day to sample the mouth-watering menu. From vegan-approved "Apricot Sorbet" to vegan to the delight of a "Chocoholic Peanut Butter Ripple," there is a taste bud popping surprise for all ice cream aficionados.
Pro Tip:
Try a" Cherry Cordial" shake made with cherry and amaretto ice cream with crushed cherry pieces and chocolate chips. You will feel refreshed, satiated, and blissfully indulged.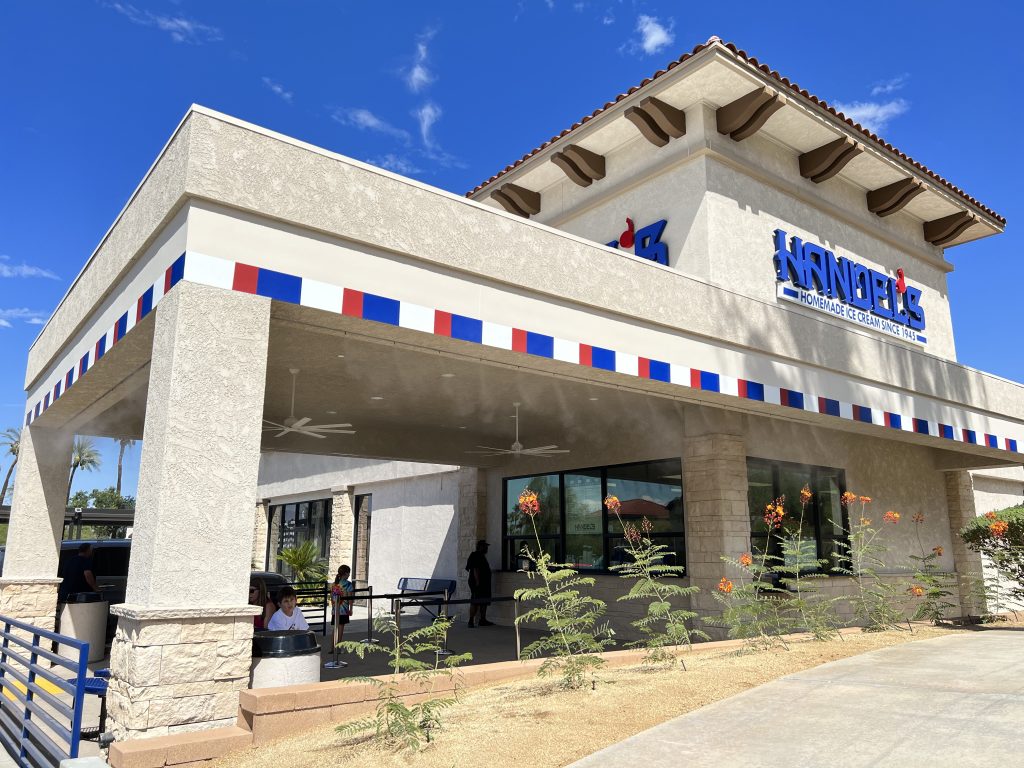 Handel's Palm Desert wisely installed Koolfog cooling misters on their front patio to make sure guests have a place to immediately gobble up their goodies without them melting on the way to the car. Caring for customers in this manner is what makes commercial businesses thrive. And, you know when the ice cream retailer is open because there is a visual "tell" to let you know that that they are open and ready to knock your socks off with the best sweat-busting summertime treat around!

Latest posts by Michelle Roe
(see all)